State President's Prize 2013 Brings High-Level Results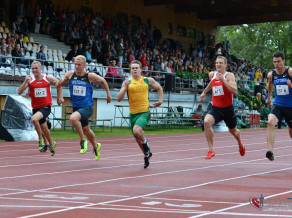 "State President's Prize in Athletics" took place on July 19 and 20 in Valmiera, Jānis Daliņš stadium. This year was successful for Estonian team in national ranking, as well as for Estonian athlete Gerd Kanter in discus throw (best individual performance among men) and Latvian athlete Agnese Pastare (best individual performance among women) who managed to set a new Latvian record in 5000 m walk.
For two days Valmiera city enjoyed a sports festival in the centre of which was "the queen of sports" – athletics. "State President's Prize in Athletics" offered a wide range of competitions and entertainment opportunities: high-level competition in athletics with participation of the best athletes from Latvia and Baltic neighbour countries, as well as a luxurious opening ceremony on Friday evening, the importance of which was demonstrated by Latvian president Andris Bērziņš who personally attended the competition.
In Baltic ranking a serious introduction was made by Estonian team that had managed to summon very talented athletes – starting with Olympic and World champion Gerd Kanter. Estonian team finished the competition with 311 points thus acquiring the Winners' Cup of the "State President's Prize in Athletics". Although Latvian team experienced a tough competition against Estonian team, at the end of the second day Latvian team did not manage to gain the necessary victories and points in relay-races which lead to second place in overall ranking (287 points). Third place for Lithuanian team with 186 points.
Already the first day of the competition was successful for Latvian javelin thrower Madara Palameika – her result 62.72 m was enough to meet World Championship qualification norm A and she qualified for the most important competition of 2013 that will take place in Moscow. Another high-level result was achieved by Agnese Pastare – she managed to beat Latvian record in 5000 m walk for women by more than four seconds compared to the existing record set by Jolanta Dukure in 2007. In 10 000 m walk for men a double success for Latvian athletes – gold for Arnis Rumbenieks and silver for Edgars Gjačs.
Victories were achieved by also other Latvian athletes. Season's best result (74.57 m) for Igors Sokolovs in hammer throw, golden jump was made by Māra Grīva (6.55 m) in long jump. Victories also for the best Latvian high jumper Mareks Ārents, as well as for Laura Ikauniece and Jānis Jansons in hurdle-race. Gold also for Mārtiņš Začests in 400 m, and Jānis Baltušs in 400 m hurdles. Two victories for Dmitrijs Jurkevičš (800 m and 1500 m).
A total of five "State President's Prize in Athletic" records were beaten: this was achieved by four Latvian athletes – Jurkevičš in 1500 m, Ārents in pole vault, Pastare in walking, Palameika in javelin throw. Another new record of the "State President's Prize in Athletics" was set by the titled Estonian discus thrower Gerd Kanter. Estonian team managed to set a new Estonian record in 4x100 m relay race.
Complete results are available on the official website "State President's Prize in Athletics". Here you will also find the photo gallery both from the competition, and the opening ceremony, as well as video reviews and full records of broadcasts.
19. Winners of the "State President's Prize in Athletics":
National ranking:
| Team | Points |
| --- | --- |
| Estonia | 311 |
| Latvia | 287 |
| Lithuania | 186 |
Individual winners:
| Team | Athlete | Discipline | Result | Points |
| --- | --- | --- | --- | --- |
| Latvia | Agnese Pastare | 5000m walk | 21:03.15 | 1162 |
| Estonia | Gerd Kanter | Discus throw | 64.56 m | 1155 |
Total (teams) – men and women:
| Total - Men | | | Total - Women | |
| --- | --- | --- | --- | --- |
| Team | Points | | Team | Points |
| Estonia | 149 | | Estonia | 162 |
| Latvia | 146 | | Latvia | 141 |
| Lithuania | 100 | | Lithuania | 86 |