Victory for Latvian Team, Best Individual Prizes for Lithuanian Athletes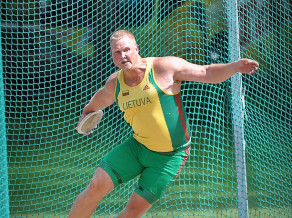 On Saturday Latvian athletes brought victory for their national team in the "State President's Prize in Athletics". Latvian team won with 325 points, Estonian team was second with 257 points, third place for Lithuanian team with 229 points.
Individual prize
This year the individual prize among men was won by Lithuanian discus thrower Andrius Gudžius (64.51 metres already with the first attempt), who showed the best individual performance among men. Second best result in terms of points was achieved by javelin thrower Rolands Štrobinders, bronze for Elvijs Misāns in long jump discipline (7.91 m). Also among women the individual prize was won by a Lithuanian discus thrower. Zinaida Sendriūtė reached 64.84 metres in her best attempt.
Team competition
Thus Latvia managed to collect 325 points in total. Second place for Estonia with 257 points, third place for Lithuania (229 points), whose athletes did not participate in some disciplines. Latvian athletes celebrated victories also individually in men and women competition. In men competition Latvian athletes managed to collect 161 point (141 point for Estonians, 105 points for Lithuanians), while 164 pints were collected in women competition (124 points for Lithuanians, 116 for Estonians).
After the first day of the competition Latvian team was in the lead with 175 points. Lithuanian team was following with 141 point, while the third place was for Estonian team with 106 points. On the first day a high-level result was achieved by 22 year old javelin thrower Rolands Štrobinders – he managed to reach 83.10 metres, thus correcting his personal record.
Also several other Latvian athletes celebrated their victories. The second day of the competition started with walking. Winner of the 5000 m walk for women was Agnese Pastare (23 minutes and 51.67 seconds). Winner of the 10 000 m walk for men was Arnis Rumbenieks (43 minutes and 25.99 seconds).
Hammer throw for men in the adult competition was successful for Igors Sokolovs who won with four successful throws that were further than 70 metres (the best – 73.42 m). Nevertheless, a great attention was also drawn to junior competition in this discipline – Tomas Vasiliauskas corrected three Lithuanian records at once. Almost 17 year old athlete reached 77.66 metres, thus setting new national records for U16, U17 and U18 age groups.
In long jump for women a double success for Latvian athletes – only one centimetre between Lauma Grīva (6.53 m) and Aiga Grabuste (6.52 m). Though, Grabuste showed better results in the jumping series in total – three more jumps were further that 6.40 metres (for Grīva – only once).
110 m hurdles brought victory for Staņislavs Olijars (14.06 seconds). The best result in 1500 m for women was achieved by Jeļena Ābele (24.95 seconds).
The fastest athlete in 200 m sprint race was Jānis Miezītis (21.29 seconds). The same discipline for women was successful for even two Latvian athletes – gold for Gunta Latiševa-Čudare (24.12), silver for Laura Ikauniece-Admidiņa (24.25). The best result in high jump discipline was achieved by Madara Onužāne (1.81 metre with the first jump). All competition results are available here.