Gold for Prokopčuka in 5000 metres run; Grabuste jumps and reaches 6.63 metres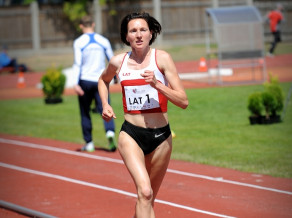 Summary of the second competition day of the State President's Prize in Athletics.
Latvian athlete Prokopčuka was leading from the first metres of the 5000 m run for women. She reached finish after 15 minutes and 51.74 seconds. The runner-up of this distance was Lithuanian athlete Monika Juodeškaitė (17:46.65), while the third place for Latvian athlete Dace Lina (17:57.42).
Another successful achievement for Latvian long jumper Aiga Grabuste who managed to reach 6.63 m in her last attempt – this result was only by 2 cm behind her personal best. Among Latvian athletes a better result in this season has been achieved only by one athlete – Ineta Radeviča who at the beginning of June in Diamond League in Eugene (USA) showed a result that overcame Aiga's result by only 1 cm (6.64 m).
In walking disciplines victories were also achieved by Latvian representatives. In 5000 m walk for women gold went to Agnese Pastare (22:06.95) with a result that was by only 14 seconds behind her personal record that was achieved two years ago here in Valmiera. Silver went to Anita Kažemāka (22:50.11), while bronze went to Lithuanian athlete Gintarė Vaiciukevičiūtė (23:28.52). In 10 000 m walk for men gold went to Arnis Rumbenieks (42:43.37), followed by two Lithuanian athletes - Genadij Kozlovskij (43:06.85) and Ričardas Rekst (43:44.91).
In discus throw for men Lithuanian athlete Andrius Gudžius (who holds the title of the world junior champion), managed to outmatch the experienced Estonian athlete Mart Israel (champion of the Universiade and owner of fourth place in the world championships). Gudžius reached 63.37 m, while for Israel the result was 63.04 m. The best Latvian athlete in this discipline turned out to be Oskars Vaisjūns – 57.95 m and fifth place.
Latvian athlete Staņislavs Olijars won gold in 110 m hurdles for men (13.84 seconds). His result was for 0.08 seconds better than result by Georgian athlete Davis Illariani. In 110 m hurdles for women gold went to Lithuanian athlete Sonata Tamošaitytė (13.24), while Latvian heptathlete Laura Ikaunice won bronze with new personal best of 13.70 seconds.
In national ranking gold went to Latvian team, followed by Lithuanian team (silver) and Estonian team (bronze).