Fantastic National Record for Latvian Athlete Jeļizarova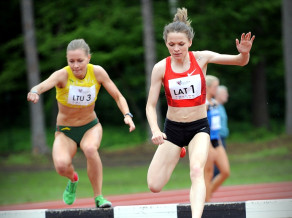 During State President's Prize in Athletics, in Valmiera Latvian runner Poļina Jeļizarova has managed to achieve new Latvian record in 3000 m steeplechase for women, thus meeting qualification norm A of London Olympic Games.
Current Latvian record in 3000 m steeplechase for women also belonged to Jeļizarova and it was 9 minutes and 51.08 seconds. Today in Valmiera she showed a surprising result and managed to beat this record by 18 seconds – when Jeļizarova reached finish, the time was 9 minutes and 33.53 seconds. This achievement enabled Jeļizarova to meet qualification norm A of London Olympic Games.
Igors Sokolovs managed to meet Olympic normative A in hammer throw for men – his result was 78.21 m and he was the winner in this discipline. This is the best result of Igors over the last two seasons.
The best athlete in javelin throw form women was Madara Palameika with best attempt of 60.55 m. Another great result was achieved by the runner-up Sinta Ozoliņa-Kovala – only 33 cm away from 60 m that is her best result in this season (59.67 m). Third place for Līna Mūze (57.79 m) who is the European U20 vice-champion.
Latvian fans had a reason to be cheerful after javelin throw for men – only a day after competition in Diamond League in Oslo, where 80.96 m were reached, Latvian record holder Vadims Vasiļevskis achieved his personal best of the season and the second best result in the world – 86.50 m (world's best result was achieved in Oslo – 88.11 m by Czech athlete Vítězslav Veselý). Vadim's result is also a new record of the State President's Prize. Second and third place for Estonian athletes - Risto Mätas (80.49 m) and Tanel Laanmäe (76.94 m). Olympic vice-champion Ainārs Kovals managed to reach fourth place (76.42 m), while the fifth place for the experienced athlete Ēriks Rags (74.48 m).
Another new record of the competition was achieved in long jump for men – the winner in this discipline turned out to be Elvijs Misāns (7.89 m), leaving behind Russian athlete Pavel Karavajev (7.86 m) and Lithuanian athlete Povilas Mykolaitis (7.80 m). Fourth place for another Latvian athlete Jānis Leitis with best attempt of 7.70 m.
Winner of shot put for men – Māris Urtāns (19 m and 43 cm).
In 100 m run for men a season's best result (10.32) and the second place was achieved by Latvian record holder Ronalds Arājs who did not have chances to outmatch Lithuanian record holder Rytis Sakalauskas (10.15 – only 0.01 second behind his current record). With the achieved result Sakalauskas improved record of the competition in this discipline that was owned by Sergejs Ignaškovs (10.35) since 1995.
After first day of the competition Latvian team leads with 165 points in national ranking. Lithuanian team has 131 point, while the third place for Estonian team with 114 points.